Investors bet the worst won't happen
But 2020 proves anything is possible -- plus stagnation fears, Fortnite's fight, and troubles for Cambodia, Lebanon, and NYC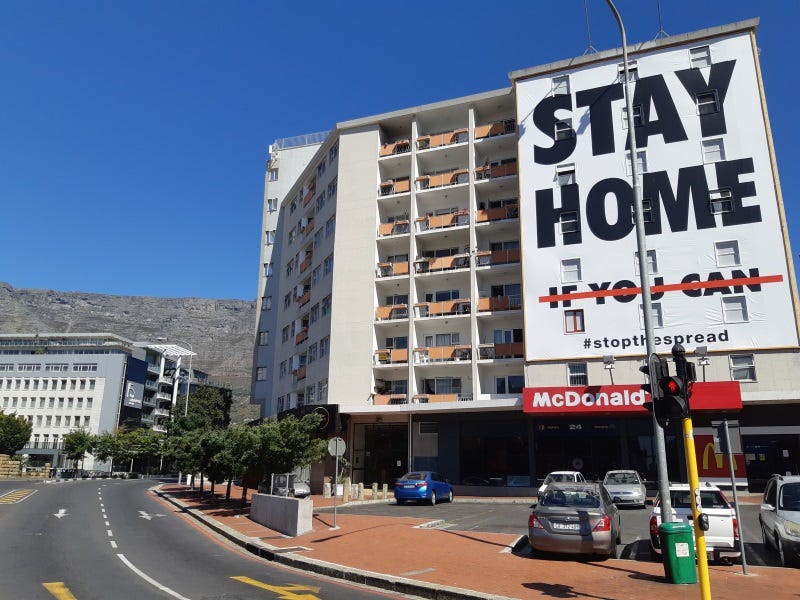 Hey everybody, welcome to another seven minutes of stagflated dissident business news from Contention. This week: 
Investors bet the worst won't happen

Dollar haunted by stagflation specter

Fortnite battles U.S. tech monopolies

Rapid Round: China's latest chip gambit, EU's Cambodia play, Lebanon's empty reforms, NYC's free fall
Thanks again for reading. It's not always easy to hear this stuff, and it's never easy to write it, but we think it's important work.
If you think it's important too please follow us on Twitter and Facebook, and share Contention with the button below.
---
Investors bet the worst won't happen
Despite the collapse of the basic supports keeping the U.S. consumer economy afloat over the last five months stocks inched higher last week -- the Dow 1.8%, S&P 500 0.6%, the Nasdaq 0.1%. 
Now investors are counting on inequality to justify their optimism: working people may be suffering, but that's not necessarily bad for markets. 
New jobless claims did dip under 1 million for the first time in 21 weeks, hitting only 963,000. Continuing claims for jobless programs also dropped by 3 million.
But 2.4 million of that 3 million drop came from workers losing access to expiring enhanced unemployment programs, with congressional and White House negotiators unlikely to break the relief bill stalemate before September.
As for President Donald Trump's executive orders meant to fill that gap, they now appear to be less the dictatorial move we reported last week, and more proof that no aspect of the U.S. system can execute at the moment:
Losing these consumer supports could mean an additional 4-5% GDP hit, and the worst state and local budget shortfalls ever will knock an additional 3% off GDP. 
So why are investors shrugging this failure off? Because the risk still looks much lower for large capital holders. Already a $2 trillion corporate bond boom has provided the best conditions ever for large corporate borrowers. These big businesses are actually TRYING to lose money right now, as the earlier relief package will let them write these losses off their past taxes, even those before the 2017 tax cut. 
Small businesses, on the other hand, are dying by the tens of thousands and employers have only refilled a minority of laid off positions under $20 an hour. The upshot: the Census Bureau reported last week that 34% of renters have little to no confidence they can make their August payment. 
Markets at or near their all-time highs are not accounting for the risks associated with evicting tens of millions of people in a summer featuring effective urban uprisings. Delegitimized elections and dismissal of constitutional norms likewise force discontent outside of the law. 
Maybe investors assume that the worst case just can't happen, but if 2020 has taught us anything so far, it's that anything is possible. 

Dollar haunted by stagflation specter
Despite a "mini-crash" in gold and other precious metals on Tuesday, the U.S. dollar failed to rally last week, with the Dollar Index declining for the eighth straight week. The new risk: stagflation, the toxic mix of depressed output and rising prices caused by political chaos. 
Rising prices are now a fact, with the Producer Price Index and the Consumer Price Index each up 0.6% in July -- both beating expectations. Consumer prices sans energy and food rose by the largest monthly amount since January 1991, and producer prices rose the most since October 2018. The CPI gain also showed up in rising retail sales, as weak purchasing power made consumers spend more just to keep up with their needs. 
Observers tried to put the best face on these numbers, saying that they indicate the end of any deflation risk. But this is cost-driven, not demand-driven inflation, and the costs aren't wage or output increases. Both measures are actually down, with productivity gains reported last week only resulting from employment falling faster than output. Prices are not rising because of an economy heating up.
Instead they reflect a significant economic crackup. Bank of America's Mark Cabana warned about "deflation signals" in June, and the alarm has only gotten louder. Real interest rates are decoupling from breakeven rates -- the difference between yields on inflation-protected Treasury bonds and regular bonds -- as markets anticipate both rising prices and deteriorating output. 
As-yet irreconcilable contradictions in the U.S. political system are dragging down the dollar, forcing up prices. The Fed has in turn accelerated the process by abandoning its traditional price stability mandate, pursuing a half-baked central planning strategy to boost investment asset prices far above real output. 
Whether the bubble bursts or the tumor swells we still face high risks of depressed output and deteriorating monetary conditions. 
This is why gold investors feel their fundamentals remain strong regardless of Tuesday's drop, with even habitual gold skeptics like Warren Buffet buying into the sector now. Capital is also shifting into euros and yuan due to superior political leadership in Europe and China: people with money need an alternative to the dollar. 
But the vast majority of Americans are stuck with whatever currency their paycheck comes in, and stagflation means the checks will keep getting smaller and buy less and less over time. That's yet another source of political friction, and current conditions show that the consequences of that can be truly unpredictable. 

Fortnite battles U.S. tech monopolies
Video game developer Epic Games launched a new in-app payment system for its wildly popular game Fortnite on Thursday, prompting Apple and Google to boot the game from their app stores for violating their respective terms of service. 
Epic then slapped both companies with antitrust lawsuits, adding an extra dig at Apple, issuing a parody of the company's famous 1984 Super Bowl ad. 
Here's the irony: Epic, fully-owned by China's Tencent, a company recently targeted by the U.S. government for its ties to the Communist Party of China, is fighting Big Brother tech monopolies in the name of free market competition.   
Tencent wasn't alone in fighting digital monopolies last week: the U.S. Department of Justice confirmed that they were going "full tilt" in investigating Google's parent Alphabet for antitrust violations. A German newspaper also reported that several travel startups had filed complaints against Google for using its search dominance to force data sharing terms on them that allowed the company to produce competing travel products.
Meanwhile, U.S. Secretary of State Mike Pompeo suggested that the recent executive order banning Tencent's WeChat messaging platform could be broadened to other businesses -- presumably Epic Games and Fortnite included. The WeChat move has already prompted anxiety among U.S. businesses, with more than a dozen major U.S.-based multinationals joining a conference call to urge President Donald Trump to hold off on the ban. 
Losing access to the dominant Chinese messaging app could mean major costs for U.S. companies. Apple alone stands to lose 20-25% of its $44 billion market in China if users can't load the app -- another level of irony as Apple blocks WeChat's cousin Fortnite in the United States. 
But again, this decoupling is the point. Free markets clearly aren't the priority, nor is making money in the immediate term -- the administration is likewise preparing to drive Chinese companies off U.S. stock exchanges despite billions in recent and upcoming IPOs. 
The point is to disrupt China's development as a consumer economy, and its advance past export-oriented service to leading U.S. companies. The recent crisis proves that the United States can't outperform the People's Republic fair and square, so they are resorting to other tricks. 
Unfortunately for Epic, Apple, Google, and the rest of us, that's no mere game. 

Rapid Round
Chinese semiconductor companies make strategic moves
Nikkei Asian Review reported last week that two state-backed Chinese chipmakers, QXIC and HSMC have together hired away more than 100 top engineers and managers from the world's leading semiconductor maker, Taiwan-basd TSMC. Both companies launched in the last three years, with QXIC building a major R&D base "not far" from TSMC's most advanced chip plant. 
Chinese financial news outlet Caixin also reported last week that Huawei was beginning a major new push to compete with Samsung in display driver integrated circuit (DDIC) manufacturing. Huawei is likely to design the chips and contract with leading mainland chipmaker SMIC for fabrication. 
E.U. strikes at Cambodia
The European Union finally implemented a partial withdrawal of its "Everything But Arms" (EBA) trade agreement with Cambodia last week, threatening tens of thousands of jobs and billions of dollars of export revenue in the country. The withdrawal stems from the Cambodian government's decision to bar the Cambodian National Rescue Party (CNRP) from participating in national elections in 2018 following the party's attempt to overthrow the government in mass demonstrations in 2013 and 2014. 
The CNRP is led by Kem Sokha, a former royalist backed by the National Endowment for Democracy -- a U.S. State Department arm associated with numerous regime change attempts in recent years. Cambodia has received billions of dollars in investment from China's Belt and Road Initiative and just concluded a major new trade agreement with the People's Republic in July. 
Lebanon's 'reforms' fail to address real crises
Lebanon's government resigned on Monday, responding to protests demanding radical change after a devastating explosion exacerbated an ongoing economic crisis in the country. The resignation throws the decision on a prime minister and cabinet back to the same sectarian parliament blamed for the country's problems. 
A donor conference virtually convened by the United Nations did pledge $300 million in aid to Lebanon, a fraction of the needs in a country dependent on exports. Even this money had "reform" strings attached, reforms likely to center on locking in debt accumulated by corrupt officials and a new government more favorable to Israel, excluding Hezbollah.
New York City rents, quality of life in free fall
Manhattan rents plunged 10% in July, and rents in Midtown-adjacent Northwest Queens plummeted 15%. The city's struggle with the nation's worst COVID outbreak and the resulting economic crisis has caused a 20% decline in population. Commercial businesses are also beginning to abandon the city, while suburbs see the nation's highest increase in housing values. 
This population shift comes alongside an 80% increase in shootings with other violent crimes also on the rise. A suspected harassment campaign by the city's police using nightly fireworks to disrupt residents' sleep is also accelerating the exodus, as the largest U.S. city experiences its own version of the social crisis gripping the country. 
---
Disclaimer
Our only investment advice: Long Dame D.O.L.L.A.
Contact us with feedback or stories we might have missed.