Trump OKs TikTok road to nowhere
Plus stimulus fumes, Nvidia's big buy, and IDB's bad new boss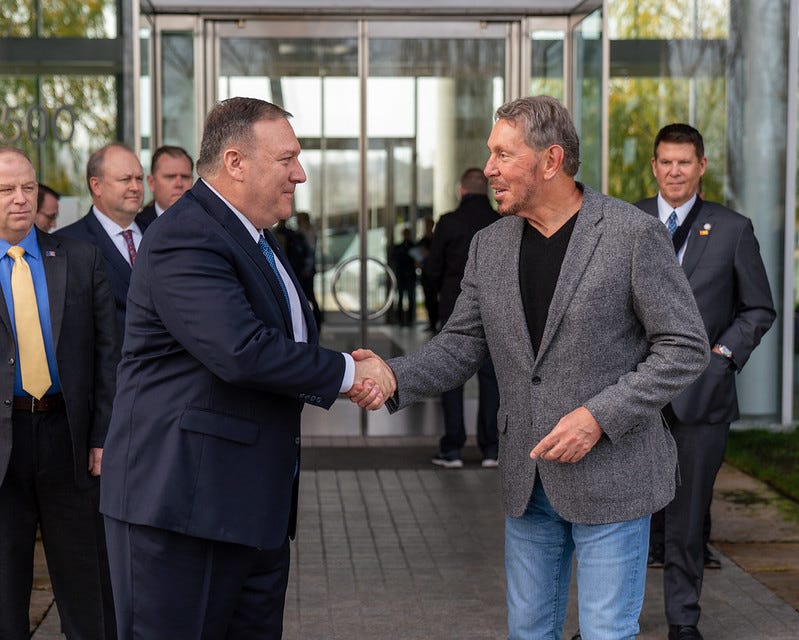 It's Monday, it's time for another edition of Contention! This week it's about seven minutes of Designated Founders Excluded Shares of dissident business news.* 
U.S. economy clings to summer stimulus

Trump OKs TikTok road to nowhere 

Nvidia's Arm buy sets up semiconductor struggle

Rapid Round: FB's latest whistleblower, IDB's new hard right head, Nikola cops, Palantir yet again
Our audience has been growing lately -- thank you for signing up and sharing! If you have friends or colleagues who might like us, will you take a second right now to share? You can do that here:
---
U.S. economy clings to summer stimulus
Stocks dropped for the third straight week as air continued to leak out of the tech bubble -- the Dow fell 0.1%, the S&P 500 0.7%, and the Nasdaq 0.6%. 
Behind the headlines the story is clear: the current phase of the crisis is near its end, with little indication of what will come next. 
This was the theme underscoring the Fed's Open Market Committee meeting on Wednesday. While the Committee did boost its economic forecasts, Chairman Jerome Powell nonetheless pointed to an "uncertain" economic outlook and a "fragile" recovery so far.
The Fed sought to reduce as much of this uncertainty as possible by doubling down on its previous commitments to keep interest rates near zero indefinitely, promising not to raise them "until labor market conditions have reached… maximum employment and inflation has risen to 2% and is on track to moderately exceed 2% for some time." Board members do not believe this will happen before 2023.
That's an extraordinary level of dovishness from the central bank, but it wasn't enough for tech stocks. The absence of a more aggressive quantitative easing plan contributed to a combined 4% loss from the big five megacaps -- Facebook, Apple, Amazon, Microsoft, and Google's parent Alphabet -- for the week. 
Powell's main subtext: monetary policy is tapped out, and the chairman made multiple calls for new fiscal stimulus from Congress. 
In fact, the only thing keeping the economy afloat may be the last dregs of previous stimulus: overdue payments from overwhelmed state unemployment agencies and savings stockpiled from federal checks earlier in the year. Core retail spending unexpectedly dropped 0.1% last month -- analysts expected it to rise 0.5% -- and the number of permanent business closures has gone up 34% in six weeks. 
So Congress is rushing to heed Powell's words and fill the gap, right? Wrong, and in fact analysts have given up any hope for a deal before the election. A bipartisan proposal from the House "Problem Solvers Caucus" held some promise, especially after President Donald Trump gave it his seal of approval, but House Speaker Nancy Pelosi and Senate Majority Leader Mitch McConnell are each blocking the bill in their respective chambers. 
The speculative tech stock boom, asset inflation through easy money, government-funded consumer support: all are at the end of their runs, and the only thing anybody has to offer in their wake is hope that somebody else does something soon. A quick look at the potential leaders waiting in the wings, however, suggests we all may be hoping in vain. 

Trump OKs TikTok road to nowhere 
Sunday's government-imposed deadline for shutting down prominent Chinese-owned apps TikTok and WeChat passed with both services still up and running. 
The whole week was a convoluted journey to nowhere in particular, with a rehashed status quo confirming that the whole controversy has been little more than whining about waning U.S. innovation leadership. 
TikTok's story was more involved and significant. It began early in the week with the app's Chinese parent company ByteDance rejecting the most prominent purchase offer to date -- from Microsoft. Shortly thereafter the company agreed to bring Oracle on as a "trusted technology partner," a curious description that elided the fact that Oracle would only own a small minority of TikTok following the transaction. 
Walmart -- previously part of Microsoft's deal -- jumped onto this ship as well, and after a brief back and forth on deal terms, President Donald Trump gave the scheme his blessing on Saturday.
The agreement amounts to a bizarre governance structure imposed on top of a company fundamentally the same as it was before:
ByteDance still owns 80% of the company, but because 40% of ByteDance is owned by U.S. investors, the administration is counting the "new" TikTok as majority U.S. owned.

ByteDance still controls the algorithm that runs the app, which means that U.S. data is still going to run through Chinese servers.

Oracle will basically be TikTok's overseer in the U.S. and will be able to check the source code for any "backdoors." 

TikTok will have its own board in the U.S. approved by the government, with at least one seat reserved for a board member from the national security establishment.
Oracle is run by close political allies of Donald Trump, and has its roots in the CIA, rendering any claim that L'Affaire TikTok is about privacy and individual data security laughable. 
Things were looking better for the government on the WeChat front at least, with the app set to be banned "for all practical purposes" yesterday. But over the weekend a federal judge issued an injunction against the ban, claiming it to be too vague and an attack on users' free speech rights. 
The whole debacle is far from over, but the die is clearly cast: the legacy technological superpower can't even shut down an app used to share silly videos, let alone create anything useful of its own -- certainly not something as powerful as WeChat's "super app."
 A dying giant is a dangerous thing, but for TikTok and WeChat fans they have nothing to fear this week at least.  

Nvidia's Arm buy sets up semiconductor struggle
TikTok was not the week's most important tech transaction: that honor belongs to semiconductor giant Nvidia's plan to buy chip architecture leader Arm for $40 billion, announced Monday, Sept. 14. 
Like every major move in the semiconductor space, the sale has significant implications for the great power conflict between the United States and China. Like every other move in that match, however, it likely fuels a shift to a new technological order altogether. 
Nvidia's industry competitors face the most immediate risk from the buyout. Nvidia designs chips, most notably graphics processing units (GPUs) originally meant to power video games but now used for all sorts of high octane computing. Most notably, GPUs are used for cloud computing AI, and Nvidia has a 97% market share in the Big 4 clouds.
Arm, on the other hand, licenses an instruction set architecture (ISA) used to interface chip hardware with the software running on it. Their ISA is ubiquitous in low power settings such as smartphones and the "internet of things." 
Nvidia's competitors have reason to fear that the purchase will block their access to Arm's technology, just as the looming end of Moore's Law -- the historic trend of circuit density on processors doubling every 18 months -- forces them to innovate new chip technologies. 
But China has a whole other set of fears. Bringing Arm under the control of a U.S. company could mean another blockade against vital semiconductor technology, one already crucial to the functioning of its most critical manufacturer, Huawei. 
All the parties -- China, and Nvidia's competitors -- have an important option: switching to the new, open-source RISC-V ISA. Intended to do for hardware what Linux did for software -- open it up, make it more extensible and free -- RISC-V (pronounced "risk five") intends to be the "Switzerland" of ISAs. In fact the foundation building it is actually headquartered in Switzerland now, and Huawei has already started using it for some of its newest chipsets. 
Industry observers believe the new architecture could do to Arm what previous innovations did to the giants of another generation: render it meaningless. 
Struggle between diametric interests in the process of production has always driven technology forward, and it's no different for semiconductors. The attempt by one country and its capitalists to monopolize control over the field is spurring innovation that undermines the profit-making process altogether. If that process plays out, the beneficiary might be everyone touched by technology.
If it doesn't, only Nvidia and its investors win. Stay tuned. 

Rapid Round
Facebook: Platform for U.S. meddling
A recently fired whistleblower at Facebook released a 6,600-word confession last week detailing her role in manipulating national politics in a number of countries around the world. "I have blood on my hands," Sophie Zhang, a data scientist, said. 
Zhang's account indicates that Facebook management did not see democratic processes in "smaller countries" as worth the effort needed to prevent open manipulation. In most of the cases detailed by Buzzfeed -- which did not release the full memo for privacy purposes -- the manipulation was done by U.S.-backed elements suppressing opposition parties or popular governments skeptical of Western priorities. 
As for larger democracies, Bloomberg Businessweek published a feature detailing the influence of Facebook policy chief Joel Kaplan -- a former Deputy Chief of Staff in the George W. Bush White House -- in pushing the company to support right-wing politics in the United States. Earlier this month reports emerged that Facebook's India policy team is closely associated with the Hindu nationalist party led by Prime Minister Narendra Modi, celebrating his 2014 victory as due in part to their efforts to "light a fire" under his social media campaign. 
Hardliner takes IDB top job
For the first time ever a U.S. citizen -- Mauricio Claver-Carone -- was elected President of the Inter-American Development Bank. Claver-Carone is a close political ally of President Donald Trump, formerly the acting U.S. representative to the IMF. His election to head the $105 billion bank was the first time ever that the vote was not unanimous, with 16 of the 48 bank governors abstaining from the vote.
Claver-Carone is a hardliner on Venezuela and Cuba, and his election succeeded following the collapse of an opposition campaign that considered a vote boycott. Venezuela's U.S.-installed exile leader Juan Guaido championed his candidacy, as did Brazil's right-wing government. 
"[In] the current U.S. foreign policy to Latin America, I don't think that they think about countries individually," Brazilian analyst Leonardo Paz said. "I think they think about problems. When they see everything to the south of the Rio Grande, they see migrants and they see communism." Claver-Carone is set to serve a five-year term. 
Nikola confesses to car troubles
On Monday, electric truck startup Nikola issued an 11-point response to short seller Hindenburg Research's report detailing an "intricate fraud" at the company. The company's stock gained 11.4% following the release, but plunged another 7% the day after when Hindenburg pointed out that Nikola not only failed to answer most of their claims, they actually confessed to some of the most damning charges.
Most notably, Nikola acknowledged that they faked a 2018 video showing their prototype semi truck in motion by rolling the truck down a hill -- the company said they never claimed the truck was moving on its own power. They also acknowledged using third party components for technologies they claimed to be making for themselves, and sidestepped questions about their battery technologies.
Hindenburg says the truck video alone amounts to securities fraud and federal law enforcement may agree -- both the Department of Justice and the SEC are reportedly investigating the company now. 
Details on Palantir's mysterious troika
Palantir announced plans to push back its public offering about one week, from Sept. 23 to Sept. 29. The company also made a fourth amendment to its S-1 filing to go public, further detailing its bizarre governance structure. 
The company already gave its three founders -- CEO Alex Karp, Chairman Peter Thiel, and tech lead Steven Cohen -- a special class of shares that gave them effectively perpetual control of the company. It clarified last week that if any one of the founders gets fired their voting control actually INCREASES, making it functionally impossible to remove the three. 
The amendment also clarified that some of Peter Thiel's shares are "Designated Founders' Excluded Shares" that give him additional voting power in the company. 
Palantir's business -- a consulting/data software hybrid -- streamlines information and decision-making in institutions critical to the company's mission of continued power for "the West." This hones the state's power transmission mechanisms, making executive authority more effective by overcoming bureaucratic data confusion. 
---
Disclaimer
Our only investment advice: We hear you're in the market for a judge...
Contact us with feedback or stories we might have missed
*This joke wasn't easy this week. 
Photo Credit: U.S. Department of State