Trump, markets can't hope away the facts
None of these absurdities are "efficient"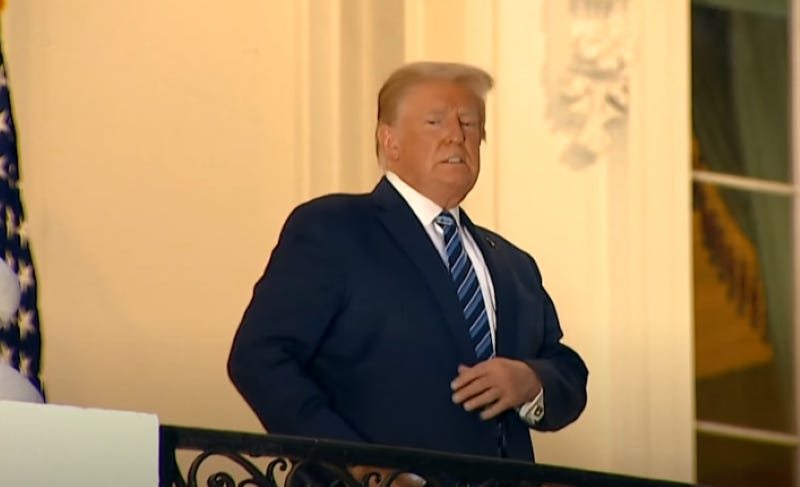 Enjoy another piece of original analysis from Contention! If you know others that might like to read it, please share it here:
---
The Republican Party has long embraced self-serving delusion, and now it's getting its comeuppance. The party that denied climate change, claimed Iraq was an aggressor against the United States, and insisted that wealth transfers to the rich would benefit everybody likewise ignored basic health advice. 
Now their leader, President Donald Trump, is sick, refusing to be hospitalized despite still exhibiting grave symptoms. He seems to believe that he can bend facts to his will if only he refuses to acknowledge them. 
But this self-hypnosis is not limited to Trump, the Republicans, or even to the political realm: it is fundamental to our present way of life. Understanding how markets reflect this phenomenon can help us understand our times.
Stocks initially fell on news of Trump's illness, and likely would have plunged further had he not timed his hospital admission for after the markets closed on Friday. By Monday he left Walter Reed at a point when many COVID patients experience a sudden reversal of conditions. Equities nonetheless surged on news of his good health. 
Their fortunes would not last long. On Tuesday, Trump called off stalled stimulus bill negotiations between his Treasury Secretary Steve Mnuchin and House Speaker Nancy Pelosi until after the elections. Trump, notably, did not wait for markets to close before his announcement. The Dow experienced a 500-point negative swing, ending down 1.3% for the day. The S&P 500 and Nasdaq saw similar drops, and futures were down as well. 
Even worse: the move came just hours after Federal Reserve Chairman Jerome Powell gave a closely watched speech urging more of the very stimulus Trump canceled. "Too little support would lead to a weak recovery, creating unnecessary hardship for households and businesses," Powell said. Now they'll get no support anytime soon.
Each of these market moves reflected shifts in investor expectations: 
Trump's diagnosis added uncertainty to the macroeconomic environment, making future cash flows less certain, decreasing their present value.

Trump's release from the hospital reduced that uncertainty, adding some of that value back.

The collapse of stimulus talks confounds expectations for near-term fiscal relief, stemming future cash flows across the market.
An important fact: the last two moves were not based on rational expectations. Trump left the hospital amidst doctor warnings that he was still at risk of severe symptoms -- this should increase uncertainty, not reduce it. The stimulus negotiations had produced nothing to date except commitments to keep talking. 
This fact means that the "efficient market hypothesis" which says prices are a perfect reflection of all the information available to all market participants is nonsense. Asset prices get filtered through the narrow interests of the investing class -- they bake their hopes into these valuations, regardless of whether they are actually rational or not.   
This means that to really understand markets -- i.e. to follow the money -- we need to take a hard look at the real interests of business. And it's here that a deeper aspect of Republican comeuppance comes into view. 
The United States' exceptional resistance to masks and social distancing started with a wave of protests organized by right-wing political organizations just weeks after the initial lockdowns. These groups were underwritten by major business interests and the protests followed demands by the business establishment to end the quarantine only days after it began.
Employers had an interest in returning their workers to work as soon as possible, and facts about the disease's spread got in the way. Their political vanguard mobilized an ideological campaign against basic public health efforts, and it worked. 
It worked so well that they all forgot it was just propaganda and now their leaders are sick. The lesson: when reality contradicts investor interests, expect American investors to lean into their interests, not reality. Even when they can't avoid consequences, expect them to find reasons to bid assets up on the thinnest of silver linings. 
There's only so far this can go, and maybe Trump or his friends will reach the limits of this delusion soon. Unfortunately for the rest of us the system at large still has a long, sick road ahead of it. 

Disclaimer
Our only investment advice: Get your sleep schedule right.
Photo Credit: VOA